Garden Centers
Thank you for visiting our website. If you are a Garden Center, DIY store or interested in retail packed quality flowerbulbs for any other reason, you have come to the right place. At De Vroomen Garden Products we are dedicated to supplying you with the best possible flowerbulbs.
The De Vroomen Simple Pleasures retail program consists of approximately 300 carefully selected varieties. Tulips and Daffodils are by far the most popular varieties, but at De Vroomen Garden Products we also offer a large variety of specialty bulbs. These varieties are becoming more popular because they will offer your customers a special and unique landscape display.
NO BIG BOX AT ALL!
As horticultural enthusiasts our goal is to bring the best possible flowerbulbs to the specialist retailer. We do not identify ourselves with the Big Box stores. Our bulbs are top size and true to name, our packaging is premium. Furthermore we are dedicated to giving you the best customer service possible. With a team in Russell, IL, USA and one in Lisse, the Netherlands, we are ready for your requests.
Why choose De Vroomen Garden Products as your supplier of retail packed flowerbulbs?
2 extensive 'Simple Pleasures' retail programs for fall and spring sales
Premium angled display racks for improved in-store display
All our display racks are on sturdy wheels that will allow you to move the displays around easily
We guarantee our products to be true-to-name and disease free
We service some of the largest garden centers in the USA, Gertens, Chalet, Pasquesi's and Behnke's
Premium Bulb Sizes
We focus on bigger, premium bulbs. The bigger the bulb, the better the result and at De Vroomen, quality comes first. Bulbs are measured by their circumference in centimeters. For instance a bag of 12/+ cm Tulips consists of bulbs with a circumference of 12 cm or larger. XXL bulbs will give XXL blooms and will make a guaranteed impression.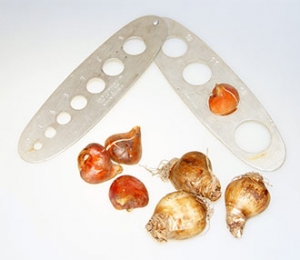 Bulbs are measured by their circumference in centimeters
Availability throughout the season
Our retail program begins shipping in August. The first possible delivery date is around September 1. You are welcome to place your orders early in the year to make sure the varieties you requested are available. These orders are packed in our production facility in Lisse, Holland. Throughout the season we maintain a stock in our distribution center in Russell, IL, for direct shipping. On our website www.www.devroomen.com we list the current availability which is updated daily.
Shipment of your bulbs
All our bulbs are shipped in sturdy boxes or black plastic shipper crates. We have two distribution points in the USA: New Jersey, NY or Russell, IL. You can either pick up your order there or have it shipped to your front door. Larger orders are regularly shipped on pallets. Smaller orders or re-orders are shipped by UPS. We offer an online track and trace system to follow your shipment.
Production & Quality Control
Everyone at our company will make sure we provide you with the best quality flower bulbs. De Vroomen Garden Products is known for delivering healthy, true-to-name and true-to-size products. Because De Vroomen takes quality seriously, we are a member of the elite Holland Selection organization.

Being a member of this organization we guarantee:
the highest quality flower bulbs
supreme flowering, provided the instructions on the package are followed
healthy plants upon delivery
that the variety, color and size of the bulbs agree with what is stated in our catalog
proper handling of customer complaints;
tracking and tracing from grower to consumer in order to improve our quality and customer service.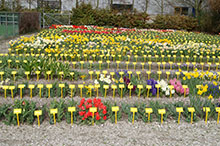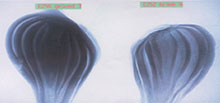 Scanning bulbs for diseases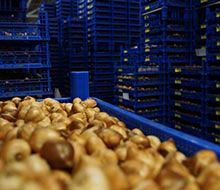 Bulb stock ready to be packed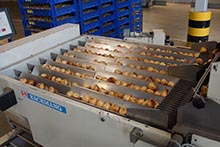 Our products are packed in a state of the art production facility in Lisse, Holland. The independent Dutch Flowerbulb Inspection Service conducts inspections during the production process and thereafter. As well as using independent inspectors, we also have our own staff members to monitor quality, packing of your bulbs and paperwork. They use modern scanning technology for early detection of diseased bulbs, special counting and packing machines for premium packing and a professional logistical system for order picking.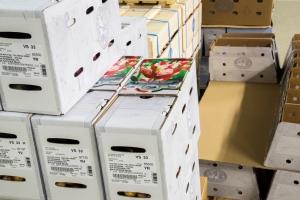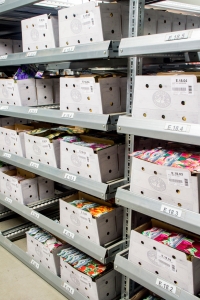 Bulbs ready to be picked for orders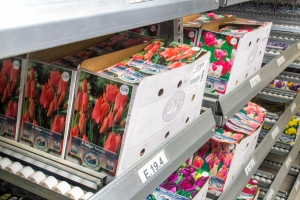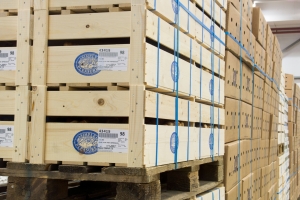 Order ready to be shipped
Marketing Materials
At De Vroomen we are trying to help our customers improve their flowerbulb business in any way possible. Besides the standard POS materials like posters and banners we designed an online picture database that will help you to re-sell De Vroomen flowerbulbs.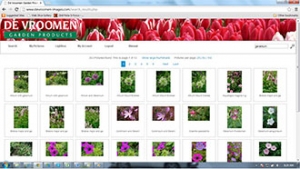 Online picture database, high res pictures at no extra cost
Picture Database
This online 'Simple Pleasures Gallery' database contains all high resolution photo material that is currently owned by De Vroomen. For our customers, these pictures are available to use on your website, in your catalog or for any other promotional purposes. You can easily browse the database and select the pictures you would like to receive.Request a login here.